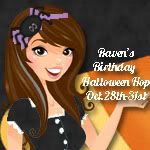 Today is the last day of the Halloween Birthday Hop for Sweet raven. Here is the line up in case you get lost along the way.

Raven Baca http://www.love4stamps.blogspot.com/
Vanessa Torres http://banessa-nessa.blogspot.com/
Theresa http://www.thescrapbookingqueen.com/
Stefani Chastain http://www.stylesbystefani.blogspot.com/
Ruthie Nixon http://septemberninth.blogspot.com/
Percilla Gurule http://scrappin3angel.blogspot.com/
Misty Littlejohn http://abusyplace.blogspot.com/ YOU ARE HERE
Michelle Criswell http://www.scrappinwithmybug.com/ Go HERE NEXT
Kristi Bennett http://littlepapersprinkles.blogspot.com/
Jenny http://www.crazyaboutcricut.blogspot.com/
Jennifer Anderson http://creativearmywife.blogspot.com/
Haidee Shableau http://created2bunique.blogspot.com/
Erika Valdez http://www.craftysprouts.com/
Christel Young Bonner http://www.onescrappinsista.blogspot.com/
Cheryl Valadez http://inktrap.blogspot.com/
Brynn Thornburgh http://www.flairandfrillscreativity.blogspot.com/
Abby Scrapbookaholic http://www.scrapbookaholicbyabby.com/
I used Happy Hauntings and Enjoy The Seasons on the layout. The pictures are yet to come. This is for tonight when I have all 3 dressed and ready to trick or treat.
The only CS I used is the Black sheet. The rest is white CS that was printed using my imagine.